After a two-year break due to the pandemic of the COVID-19 disease, the MBT 2022 conference was held in Belgrade, Serbia on May 26, 2022. The organizer and host of the conference were JP Emisiona tehnika i veze (ETV) from Belgrade with the support of the MBT Association. The conference was held in a hybrid format – live in the ETV's telecommunications tower on Avala and online. Main topics of the conference were:
Broadcast infrastructure – energy efficiency and CO2 reduction, automatization, alternative energy sources, DTT= GREEN BROADCASTING

Broadcast spectrum – protection of UHF spectrum for broadcasting and culture

5G Broadcast – new opportunities for broadcasters and network operators.
Representatives of the companies Rohde & Schwarz, Roaming Networks, Ibis Solutions, Antenna Hungária, RTV Slovenia, OIV, RDC and JP ETV held very interesting presentations within the given topics. Vincent Grivet's (BNE) presentation on the LoCat project – research that showed that digital terrestrial television (DTT) is by far the most energy-efficient platform for distributing TV content compared to OTT and IPTV platforms, is worth mentioning. The presentation by Michael Moskob (Media Broadcast) about the initiative to preserve the UHF frequency spectrum for the needs of TV broadcasting and culture (the use of wireless microphones for concerts, conferences and other events) should also be highlighted.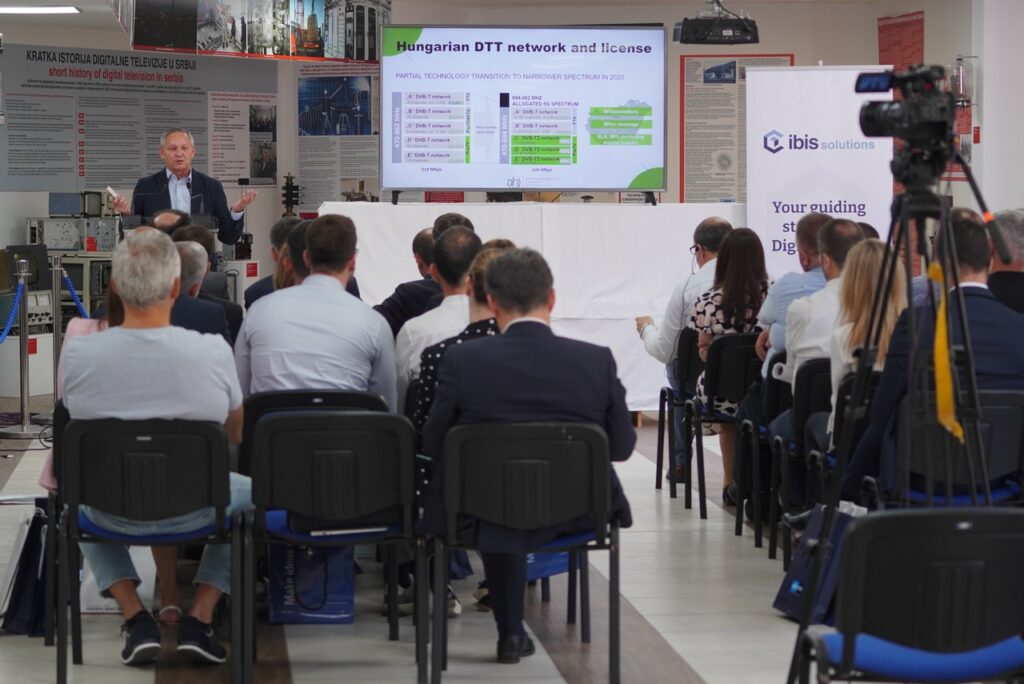 MBT conference is an event that has been gathering regional broadcasting organizations and manufacturers of broadcasting equipment since 2003. Although this conference was held on a smaller scale than in the years before the pandemic, it was a great success, so we successfully continue to promote and strengthen broadcasting, which is core business of all members.
MBT 2022 CONFERENCE PROGRAM

TIME SCHEDULE

Welcome speech

10.00 h – 10.15 h

SESSION 1

10.15 h – 11.45 h

Keynote presentation 1

LoCat Project – Energy and carbon impacts of the delivery of TV content across different platforms in Europe – Vincent Grivet

10.15 h – 10.35 h

Energy saving in existing DTT network of Antenna

Hungária –

Zsolt Árki

10.35 h – 10.50 h

Overview of energy saving activity and new projects – RTV SLO – Bojan Ra

mšak

10.50 h – 11.05 h

Automatization of transmitting stations – Roaming Networks

11.05 h – 11.25 h

5G Broadcast/Multicast – Redefining the future of content distribution – 5G BC/MC Trial Vienna

– Rohde&Schwarz – Franz Egerer

11.25 h – 11.45 h

COFFEE BREAK

11.45 h – 12.15 h

SESSION 2

12.15 h – 13.40 h

Keynote presentation 2

Alliance for Broadcasting and Cultural Frequencies – united to preserve the

UHF spectrum – Michael Moskob

12.15 h – 12.35 h

The road to energy sustainable business – OIV – Luka Crnogorac

12.35 h – 12.50 h

AI Driven operations – Ibis Solutions

12.50 h – 13.10 h

Future trends versus present challenges – RDC – Leonardo

Đokić

13.10 h – 13.25 h

Improving of energy efficiency – JP ETV – Slađan Stanković

13.25 h – 13.40 h

LUNCH TIME

14.00 h – 16.00 h